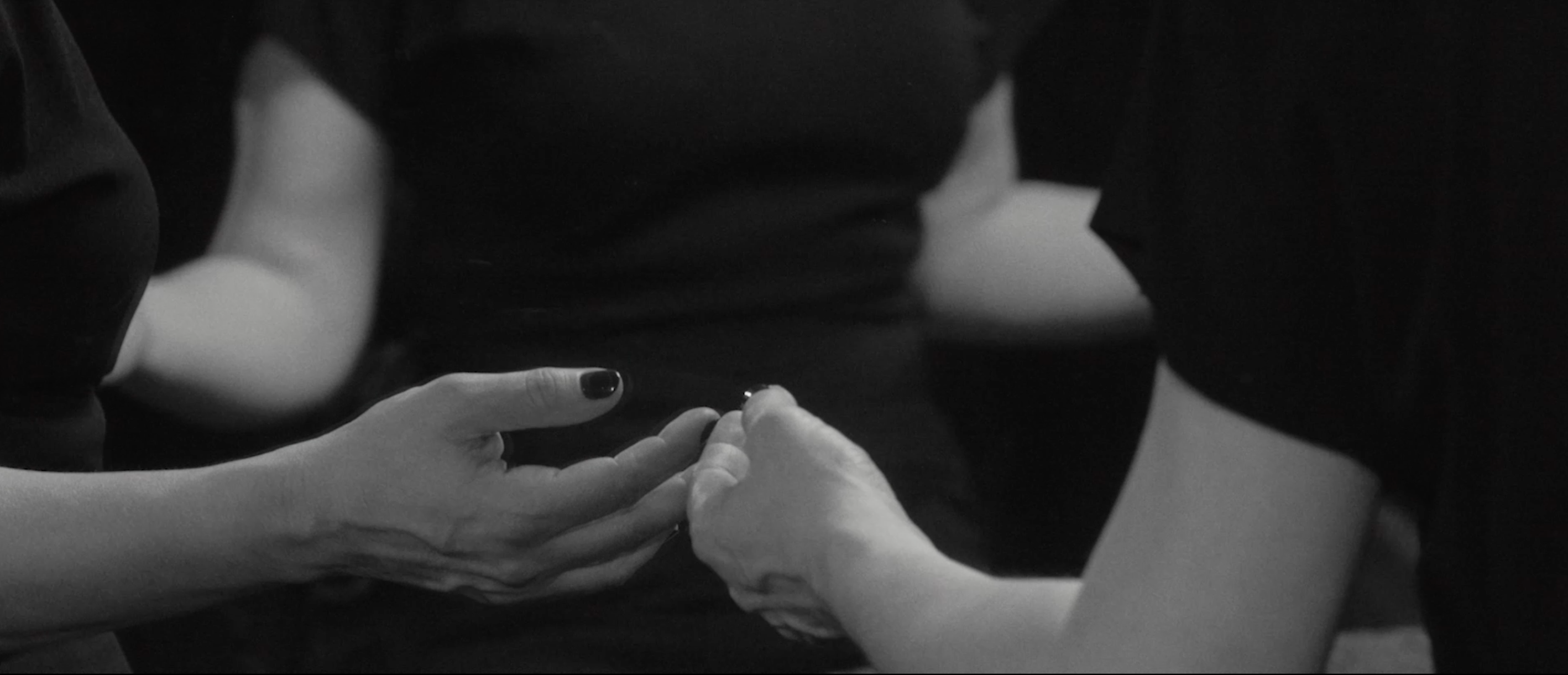 HEX: Begin Again (linear version) 2023
B&W, HD
11:59
HEX: Begin Again (installation version) 2019
HD, Single channel video with stereo sound
Continuous Loop, 10:10

In HEX: Begin Again, Laura Taler pairs a simple mirror trick with strategies of masquerade and repetition to create a world of ritual and séance. Reaching into the past, Taler recites a series of remarkably contemporary historical texts written by Maya Deren, Claude Cahun, and Susan Coolidge. These women's careful and disruptive works aimed at creating new realities through artistic and technological means, realities where a self-aware female body is simultaneously sexual, intellectual, spiritual, practical, and unbounded by social mores. Through repetition and fragmentation, HEX: Begin Again questions our relationships to past and present technologies, the relativity of absolute value, and long held prejudices about female power. Visual clues punctuate the monologue and point to transformation and new beginnings. By channelling these women, who self-identified as outsiders, Taler combines movement, cinema, and text to form a complex and playful language of resistance.



Director | Laura Taler
Performers | Laura Taler & Stanley Frankentaler
Director of Photography | Marcus Elliott
Editors | Kim Frank & Laura Taler
Production Sound | Phil Rose
Director's Assistant | Mary Catherine Jack
Production Assistant: John Ancheta
Set Assistant | Erin Armstrong
Make-up & Hair | Nicole Winckel
Cat Wrangler | Stephanie Nadeau
Costume Consultants | Tina Legari & Caterina Florio
Sound Mix | Jordy Bell
Colour Correction | Natalia Solis

Text collaged together from|
Claude Cahun, Aveux non Avenus, 1930 & Les Paris Sont Ouverts, 1934
Susan Coolidge, A Few More Verses, 1889
Maya Deren, Cinema as an Art Form (originally published in New Directions 9), 1946
Unidentified reporter, Grand Forks Daily Herald (citing the Pittsburg Dispatch), 1894

Tango |
Utomlennoe Solntse (The Tired Sun, by Jerzy Petersbursgski recorded by Aleksander Cfasman, 1936

This work was created with generous contributions and support from all the collaborators, The Ottawa Fringe Festival, Sasha Phipps & the University of Ottawa, The Ottawa Dance Directive, Affinity Production Group, Saw Video Media Arts Centre, Anna Frlan, Neven Lochhead, Yvonne Coutts, Mitchell Frank & Saul Frank Taler. Laura Taler gratefully acknowledges the financial support of the City of Ottawa.